A day after the ICC banned former Zimbabwe captain Heath Streak for 8 years for multiple breaches of the Anti-Corruption Code of Conduct, the governing body has reportedly revealed that 'Mr. X' who gave Streak two bitcoins and an iPhone to his wife is an Indian businessman Deepak Agarwal, who was himself banned by the ICC till 2022 for breaching the code of conduct.
On Wednesday, the ICC dropped a bombshell when it revealed that former Zimbabwe fast bowler Heath Streak has been charged for as many as five breaches of the code of conduct which includes disclosing match information during his coaching stint for Zimbabwe and multiple franchises in T20 leagues, acting as a mediator between corruptors and players and accepting gifts from the bookies.
The ICC described the corruptor as an Indian businessman and had named it Mr.X.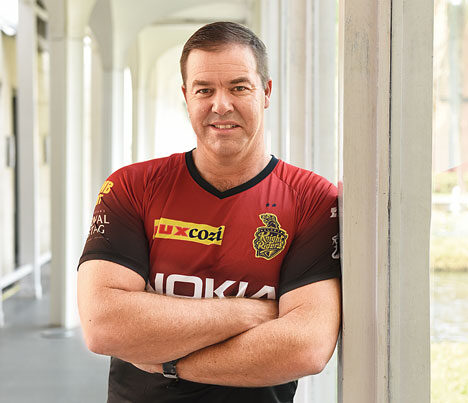 Agarwal, who is in his mid-30s, is the same corruptor who approached Bangladesh all-rounder Shakib Al Hasan back in 2019, who was banned by the governing body on three charges including failing to report the corruptors approach.
Agarwal was charged by the ICC in December 2019 for being a 'participator' after an extensive probe by the ACU.
In December 2018, the Anti-Corruption Unit had come across a WhatsApp conversation between Agarwal and a person, which the ICC had named as 'Mr. X'.
This 'Mr. X' was a person that was facing several allegations as part of a probe that ACU had been conducting. This Mr. X was tasked with the responsibility of introducing Agarwal to players in order to seek vital match information from them.
According to ESPNCricinfo, this 'Mr. X' was former Zimbabwe skipper Heath Streak.
While banning Agarwal, the ICC said that the corruptor was guilty of "obstructing or delaying" an investigation including "concealing, tampering with or destroying any documentation or other information that may be relevant to that investigation and/or that may be evidence of or may lead to the discovery of evidence of corrupt conduct" under the ACU code.
The ACU found incriminating evidence from Agarwal's phone, which he had handed over to the latter during the probe. The ACU found WhatsApp conversations where Agarwal could be seen instructing Heath Streak (Mr.X in this context) as to what to say to the ACU over certain matters to ensure that both told the same story.
"In these conversations, Mr. Agarwal effectively instructed Mr. X as to what to say to the ACU over certain matters to ensure that they both told the same story (a story which on occasions was not true) and consequently misled or obstructed the ACU's investigation," the ICC said in a statement last April.
"Mr. X also sought clarification from Mr. Agarwal over the interview process and what Mr. Agarwal had told the ACU on certain matters. In effect, Mr. Agarwal and Mr. X contrived together to mislead the ACU investigation and not to tell the truth in their answers."
On Thursday, the ICC revealed that before meeting with the ACU team in January 2019, Heath Streak had "engaged in a series of Whatsapp messages with Mr.X, well aware that "Mr.X himself had recently" been probed.
"Before his interview with the ACU, Mr. Streak engaged in a series of WhatsApp messages with Mr. X, knowing that Mr. X himself had recently been interviewed by the ACU. These WhatsApp conversations between Mr. X and Mr. Streak related to what Mr. X had told the ACU in his interviews.
"In these conversations, Mr. Streak has admitted that he and Mr. X effectively discussed what Mr. Streak should say in the interviews to ensure that they both told the same story (a story which on occasions was not true) and consequently he has admitted that his conduct in so doing could be construed as misleading or obstructing the ACU's investigation. Mr. Streak also sought clarification from Mr. X over the interview process and what Mr. X had told the ACU on certain matters."
Also Read: Heath Streak Gave Inside Information To The Indian Bookie During IPL 2018 As Kolkata Knight Riders' Bowling Coach


[ad_2]