Following author Arif Bacchus' post "How to upgrade the SSD in the Surface Laptop 3 or Surface Pro X," some of you may be in the same boat as me in trying to find an official replacement for rubber feet for your laptop.
As Bacchus demonstrated, getting to the Surface Laptop 3's storage is a trying event that requires practically tearing apart the rubber feet of a Surface Laptop 3 to eventually complete the task. As the new owner of Bacchus' Frankenstein Surface Laptop 3, I'm now in need of replacement feet, and fortunately, Microsoft has an official process for getting some.
The folks over at Notebook Check did the footwork in finding the inexplicably hidden accessory replacement process for the Surface Laptop 3 and as a result, saved me the process of sourcing knock-off rubber feet from Amazon.
While getting to the replacement process may seem like a 'Where's Waldo'-like ordeal, the execution is relatively straightforward. To take advantage of the inexpensive replacement process, the Surface Laptop 3 needs to be registered to a Microsoft Account and have handy the serial number of the device. To find the serial number visit the About section in the Settings Menu. To register the device, you can either go to your Microsoft Account on the web or begin the process while exploring the replacement process here.
From there, the process should take roughly five minutes (2 minutes if you make use of Microsoft Edge's autofill features) and is as follows:
Head to Microsoft account | Devices
Select your Surface Laptop 3
Select Start Service Online
Select Accessory | Misc
Describe that you need replacement feet
Choose from the color you need
Select your address
Pay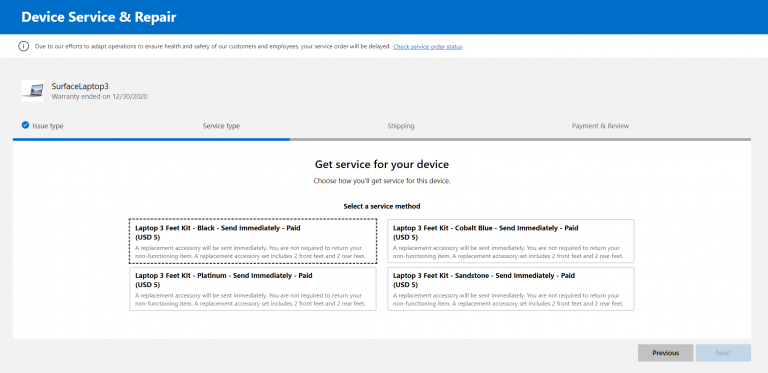 When all is said and done, in the US the total comes out around $15 but much of that is shipping. For now, Microsoft isn't readily advertising the replacement processes and a year ago it seemed to only be a commercial resource. For anyone looking to get replacement feet for their Surface Laptop 3, you may want to jump on it soon before the company produces a Surface Laptop 4 and eventually ends the production of these accessories.
Share This Post: